"Upscaling Digital Financial Services and Payments: Innovative, Agile, Accessible, Affordable"
After a continual success of the Africa Bank 4.0 Summit, BII World brings to you the 12th Africa Bank 4.0 Summit – SADC Region. This high-profile summit brings together the policy makers, and the higher authorities across the Southern African FinTech, digital banking, and digital payments sector to pave the way forward into progressing the region's quest to enhance access to finance by raising the bar with innovative models in payments and finance.
The event hosts high-profile officials from the relevant government bodies, and the c-suite from banks, microfinance institutions, fintechs and regulators on the speaker roster. Within the audience the event hosts senior and executive management officials from the financial services sector to determine SADC's progressive future in payments, digital banking & beyond.
The event has become the core for Africa's fintech and financial services community as it brings real-life issues, transform those issues into opportunities, and lastly the event becomes a platform for change to the region's digital financial services fraternity.
WHY MUST YOU ATTEND THE 12TH AFRICA BANK 4.0 SUMMIT – SADC REGION?
As part of the flagship series of the Africa Bank 4.0 Summit, our attendees come to attend knowing that they will acquire the most updated knowledge on digital payments, financial inclusion, innovative technologies and the best digital banking solutions to counter biggest challenges.
We did a quick survey to see where they are investing
Buy Now, Pay Later
Open Banking Enabled Solutions
Implementing Artificial Intelligence & Data Analytics in Customer Insights
Regulatory Updates on PAPSS
Accessible Digital Credit
User Experience across Digital Tools & Mobile Apps
Next-Generation of Agency Banking
Biometric Onboarding & ID Systems
Enhancing a Trustless Experience in Payments & Transfers
SPEAKERS AND PANELISTS
12TH AFRICA BANK 4.0 SUMMIT – SADC REGION
TRENDING AT THE 12TH AFRICA BANK 4.0 SUMMIT – SADC REGION
Fintech Investments
Open Banking Innovation
Smart Payment Process
Alternative Data & Analytics
Human Touch in Digital
Banking-as-a-Service
Digital Payments Innovation
Blockchain Platforms
Biometric Security Systems
Digital Credit
BNPL Services
Customer Engagement
Operational Excellence
ID Management
Gender Inclusive Banking
CENTRAL THEMES AT THE 12TH AFRICA BANK 4.0 SUMMIT – SADC REGION
Perfect Examples of Translating Intention to Action
Showcasing success stories that offer a 360-degree perspective on enhancing financial inclusion excelling the art of advancing customer-centered retail digital financial services
Open Banking's support to Enhance Financial Inclusion
Investing in Customer Engagement Technologies
Leveraging with BNPL Services
Next Generation of Biometric Secured Payment Systems
Customer Experience & Satisfaction
Investing in Voice of the Customer
Investing in the Customer's Data Protection, Usage, and Personalization
Aligning with PAPSS
Innovating Retail Banking Product & Services
Making Digital Finance Accessible and Affordable
Customer Secured Digital Onboarding
Creating a Transparent, and Seamless Payment Transfer Infrastructure
Aligning Culture & Gender Diversity in Financial Service Excellence & Transformation
Enhancing Financial Inclusion & Growth with Fintech Innovation
WHO WILL YOU MEET at The 12th AFRICA BANK 4.0 SUMMIT – SADC REGION?
The event brings the who's who from the continent's financial services sector featuring banks, regulators,
Fintechs and the government. Let's find out who will you meet at the 12th Africa Bank 4.0 Summit – SADC Region.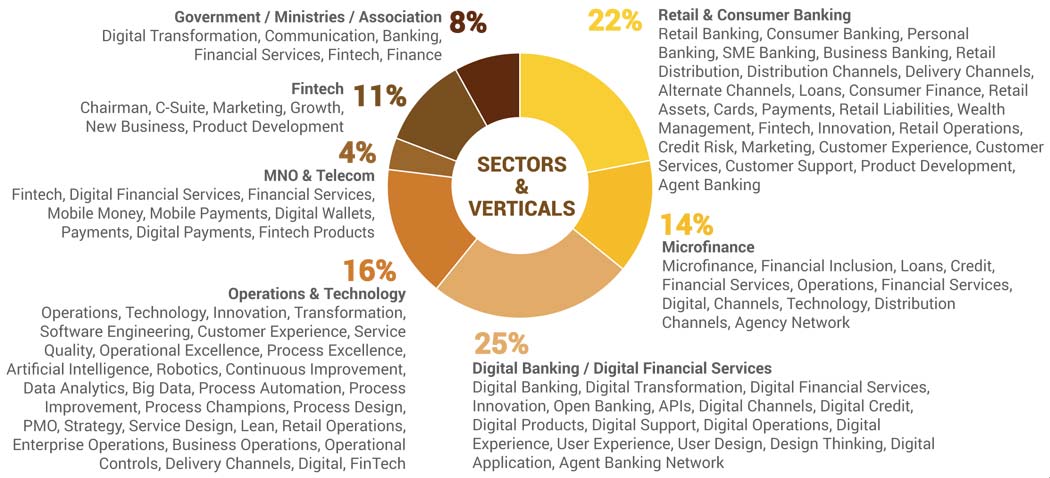 Banks & Financial Services Providers
Commercial Banks | Retail Banks | Digital Banks | Neobanks | Consumer Financial Services Companies Personal Financial Services Companies | Credit Card Financing Companies Leasing Firms | Retail Financial Services Companies
Fintech & Digital-First Financial Providers
Digital Wallets | Electronic Wallets | Mobile Wallets | Digital Wealth Managers Crowd Funding Platforms | Peer-to-Peer Lenders | SME Credit Providers | Mobile-Network Operators
Government & Regulators
Finance Ministries | Central Banks | Financial Regulatory Authorities Banking Associations | Fintech Associations
FACTS & HIGHLIGHTS FROM THE PAST EDITIONS
BII World has created a brand in the name of the Africa Bank 4.0 Summit which has dedicatedly offered its participants and partners a unique platform to collaborate, strategize, and contribute for the future development in the region's digital financial services and e-payments sector.
HIGHLIGHTS OF THE PAST EDITIONS
4000 +

Delegates

300 +

Speakers

300 +

Attending Banks & FinTechs

50 +

Sponsors

20 +

Supporting Partners

700 +

Hours of Networking

50 +

Presentations & Panels

30 +

Solution Showcase