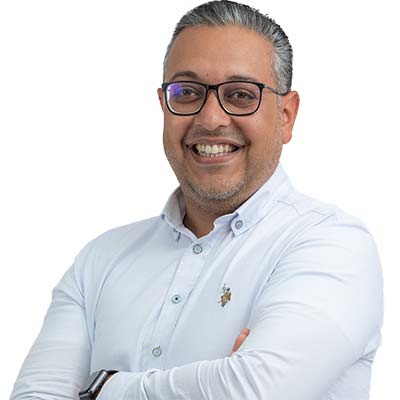 Ramy Waziry
Chief Digital Officer
Misr Digital Innovation (MDI)
Ramy Waziry is the Chief Digital Officer at Misr Digital Innovation (MDI), a subsidiary of Banque Misr and the company responsible for building Egypt's first native digital bank. With a strong background in banking technology and digital transformation, Ramy plays a pivotal role in shaping MDI's digital strategy and ensuring a seamless and innovative customer experience.
Ramy brings a wealth of experience and expertise to his role as the Chief Digital Officer. Prior to joining MDI, he held various key positions in prominent financial institutions and banks in the country, driving digital initiatives and leading transformative projects. His career highlights include heading Digital Operations at Banque Misr, where he transformed traditional processes and financial transactions into digital solutions, resulting in increased efficiency and enhanced customer experience. Before that, he served as the Head of Commercial Digital Channels at Bank Audi showcasing his ability to leverage digital technologies and expand the bank's digital service offerings.
As the Chief Digital Officer at MDI, Ramy holds a strategic position overseeing the end-to-end digital experience for the bank's customers. He actively participates in designing innovative solutions tailored to customer needs and industry trends. Ramy utilizes analytics and insights to gain a deeper understanding of customer behaviour and preferences, enhancing the overall digital experience and driving informed decision-making. His commitment to delivering a seamless and personalized customer journey is evident through his focus on user-friendly interfaces, optimized digital channels, and stringent security measures to ensure compliance and transparency.