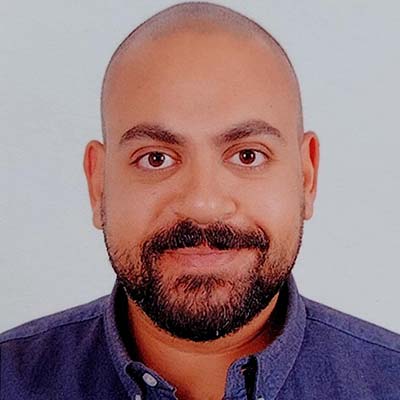 Mahmoud El-Witidy
Information Security Communication Manager
Arab African International Bank
Mahmoud El-Witidy is the Information Security Communication Manager in the Arab African International Bank (AAIB). El-Witidy has more than 15 years of diversified experience in the banking industry and is someone who strongly believes in the power of hybrid sciences. El-Witidy is a business degree holder from Helwan University. He pursued his post graduate studies to learn about Marketing and Communication that he identifies as his passion. In 2010, he earned an MBA degree in Marketing from the Arab Academy for Banking and Financial Sciences, where he was introduced to Marketing Information Systems for the first time.
In 2015, he became a Certified Digital Marketing Professional (CDMP) after finishing a professional Diploma in Digital Marketing from the Digital Marketing Institute (DMI) – one of the top 10 in the field. In 2017, he earned a Doctorate degree in Management with concentrated studies on the Impact of social media on the Banking Industry in Egypt from Ain Shams University. El-Witidy drew a career path for himself that had a great impact on his portfolio of skills. He first worked for Microsoft for almost a year that shaped his personality, stretched his thinking abilities and added a lot to his interpersonal skills. By the end of the same year, he joined Arab African International Bank (AAIB) as a Cash Officer. He calls it "the kitchen" – where he learned many details about banking operations and products. Besides, he crystallized on his analytical skills, learned how to work under pressure, became more people oriented and most importantly learned how to understand people's needs with a touch of Physiognomy.
In 2014, El-Witidy moved to the Marketing & Communication division in AAIB. This was where he applied his studies and nurtured his passion in marketing. He was the first to establish a digital marketing department in AAIB, where the process was dynamic and comprehensive to his learning journey. Everything was built up from the scratch which helped solidify many of his managerial skills. Among his key milestones was AAIB's unprecedented presence on social media, organic reach to millions of followers, generating profit from social media and much more. In 2019, El-Witidy made a bold decision moving to a new territory to utilize his gains throughout past years. He joined the world of Cybersecurity to establish Information Security Communication Department where he is utilizing his marketing & communication background in delivering technical science to normal users across AAIB in a friendly and understandable format.
In 2022, El-Witidy has been certified as SSAP (SANS Security Awareness Professional) and GSTRT (Security Strategic Planning, Policy and Leadership) by SANS – one of the top cybersecurity education and certification providers in the world. This has nurtured his knowledge in the field and broadened his technology spectrum. Aside from his work-study life, El-Witidy enjoys travelling, reading and painting. He always likes to explore different destinations and cultures and to date he roamed more than 50 different countries and north of 100 cities. He also founded his own drawing project "Bright Colors of Life" in 2015 and has an Instagram page that promotes for his art. El-Witidy believes that enhancing communication requires continuous self-development, not only through a given job, but heavily through increasing chances of meeting and interacting with people.