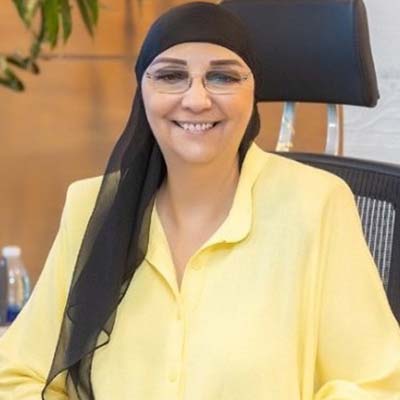 Joman Salama
Chairman Executive Consultant, Transformation
Agriculture Bank of Egypt
Joined Agriculture Bank of Egypt (ABE) in May 2020 as The Chairman Executive Consultant for transformation and change management. Managing the implementation of a New Core Banking, Compliance and other complementing solutions, drive Project Management Portfolio of around 150+ Projects and initiatives covering business needs, digital transformation, government initiatives, engineering and technology works. In addition to the non-core projects including ERP, Middleware, Medical, Governance and process re-engineering. Joined Alex bank in May 2017 as the COO to deliver a transformation journey, drive cultural change and introduce governance & control for the operating model of Information Technology, Banking Operations, Real Estate, Assets management, Access Control, Change Projects, Crises & Business Continuity Management, Health & Safety, Fraud, Physical & Information Security.
She was tasked to optimize the operating model, reduce head count, minimize manual operational intervention / paper work, automate centralized processes, enhance productivity, introduce efficiency, accelerate service delivery and set Operational Dashboard to manage business needs through KPIs & SLAs. All is initiated with various stages of the implementation (completed, in the pipeline, initiated), however the structures, policies, strategy and business plan is in place. Joined Barclays Bank Egypt In January 2008 as the CIO and soon held the position of Technology & Business Integration Director (IT & BPR), leading Technology, Change, Performance Improvement and MI. In November 2013, was assigned additional responsibilities of Chief Operating Officer (COO) for Barclays Bank Egypt on Interim basis and officially announced as the Chief Operating Officer in June 2014. During her tenor with Barclays, she led on the successful implementation and launches of several technology platforms.
Also, she has driven the enhancement of the in-country network resilience, availability, monitoring, security and speed where Egypt was selected as a role model for its successful implementation of ITIL (Service Delivery Process), for maintaining technology platform stability, delivering best application service and support, developing a top talent team and for extending help and support to all other African countries. Under her leadership, Egypt Technology got two awards, in two years in a raw. The Overall Best Team in Africa & The Best Team in Service Excellence. Since her COO appointment, she delivered the Mega Project of Barclays new premise (City Stars) accommodating 1500 staff in all functions and state of the art security system and control room, she also managed to get the regional recognition to consider Egypt as an operating hub for Technology, Operation & Trade. Under her leadership, she succeeded in creating centers of excellence in Customer Experience, Customer on Boarding, Credit Operations, Credit Transactions, Security & Fraud, Governance & Control and Technology.
She managed to promote Egypt for being a light HUB supporting the African countries in Technology, Security, Trade and Governance & Control. She successfully managed exporting 16 at her top talent on short/medium /long term assignments across the African countries. Prior Barclays, Joman was the First Vice President of IT in ABC bank, managed and delivered a technology platform of applications and infrastructure during her 11 years. She also joined National Bank of Kuwait since 1975 for 23 years in IT, BPR, MI & Process Automation, and joined ICL in 1972 for a couple of years.