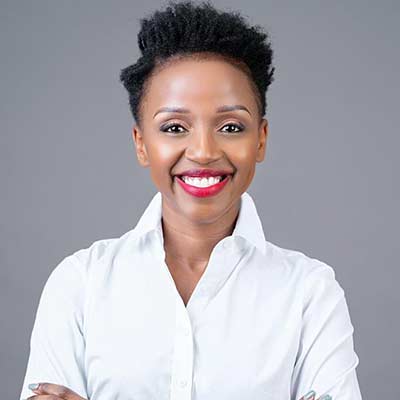 Amenda Makhetha
Group Head of Data Privacy
Absa
Amenda is an Attorney by Profession and is currently the Group Head of Data Privacy for one of South Africa's top four banks. She was previously responsible for Group Data Privacy Compliance at MTN Group LTD and prior to that headed the Data Privacy and Compliance function at MiX Telematics LTD. Her experience also includes Group Legal and Compliance Officer for JDGroup, a Retail company wholly owned by Steinhoff Intl. and Director at a Boutique Law Firm Makhetha-Ngcobo Attorneys and Lelo Privacy Compliance Consultants.
In her personal capacity she has sat on numerous Boards, is a Public Speaker and Author "My Dad Always Says".
She studied Law (LLB) UKZN, while working as Project Manager for Bright Idea Projects.
She is passionate about the empowerment of young people and instilling values in them. Hence, during her tertiary years, she headed the Youth division at Oasis Church, an NPO, involved in community outreach projects directed at youth empowerment and has won awards for her role in the empowerment of youth and women.
Pre-admission, Amenda practiced as a Legal Advisor for AuntyX Trading Group before joining Mngoma-Mlaba & Khumalo Inc. where she headed the Commercial division, Managing litigation, Contracts, Trusts, Opinions and the application of the PFMA, MFMA, Companies Act. While serving as an Associate Attorney, she was involved in various commercial projects with: Ithala Development & Finance Corporation, Department of Treasury in KZN, Ethekwini Municipality.
Her Key Qualifications include knowledge and experience in the execution of Judicial Acts, Contracts and Compliance Management, Dispute resolutions, interpersonal skills, research, conflict & risk management, monitoring AML, POPIA, PAIA, CRMP'S, Policy Drafting and Review, Compliance Reviews, Reports facilitation & presentations. She works well independently and has facilitated both POPIA and GDPR Projects for multinational listed organisations.
On a personal level, she is highly motivated and ambitious. She has a sparkling and pleasurable personality. She is focused, assertive, disciplined, zealous, immaculately presented and well versed. She has good communication & leadership skills with an ability to interact with people at all levels.