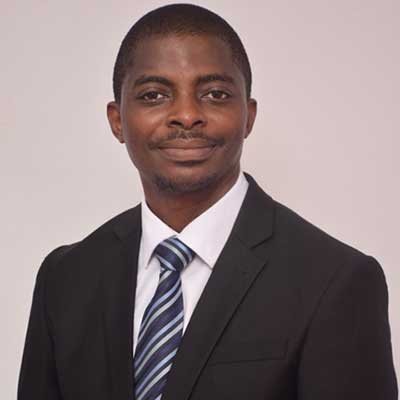 Akinniran Oluwagbohun OKE
Founder, Chief Technical Officer
Hremsoft Online Examination Simulation Limited
Akinniran O. Oke. is a talented young man with a Midas touch in Software Development & Engineering spanning over twenty-four years, with specialization in enterprise management software solutions development. He is a Certified Communications Network Administrator (CCNA) in telecommunications and also holds a Bachelor of Science Degree in mputer Engineering and M.Sc in Software Engineering from Obafemi Awolowo University and Babcock University respectively.
A Certify google data analytics. A member of Financial Association of Nigeria (FintechNGR) and Institute of Information Technology Professionals South Africa (IITPSA). He had a social engagement and academic excellence that has earned him a Presidential and State awards in 2003/2004. He is an astute team leader, a self-starter, innovator, motivational speaker, strategist and effortlessly proffering solutions. Built solutions on USSD and Blockchain technologies applications. Before founding Hremsoft OES Ltd., he worked as a Senior Developer & Manager at SocketWorks Limited where he developed and implemented Enterprise Mining Management System (EMMS) solution. He is one of the first team that develop Wireless Application Protocol (WAP) in Nigeria while at Mtech Communications Limited, as a Network Administrator and WAP Developer.
He has also designed and implemented Accounting and Inventory Management System (AIMS), End–to–End Administrative Solution on Mobile Telecommunication for Education, Mobile Applications for Android etc., his flagship design being the Online Education System (OES: https://oes.com.ng) a.k.a OES Solution both on Mobile and Enterprise Web Solution. He also consults for Babcock Unviersity (BU) on data analytics while initiating e-Commerce Solution for Babcock University Ventures https://babcockdigitalstore.com.
He also lead the team that develop ReachMe /Christplatform.com (SA) – https://christplatform.com a social media application which adopts big data architecture using Neo4j Graph Database, thus, generating a Social Media Creation for Christians, consults for SAAB (SA), MTN (NG), Lagos Resource Educational Centers – Digital Content Creation for Teachers, Ministry of Education, Lagos, among others. He has built several enterprise applications for companies and he has 3 academic papers. He is also an author of book called: "Beauty of Life". Finally, he is happily married with 2 lovely children.