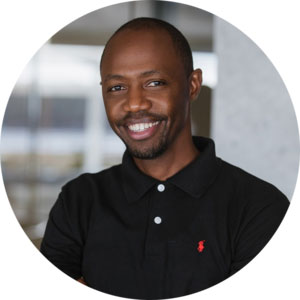 Hermann Mike, Regional Director at OpenWay Sub-Saharan Africa, names the main enemy of banks in Africa, gives insights on services that drive customer acquisition in the region, and shares what he loves about working at OpenWay.
Here is the full interview recording. Additionally, for your convenience, the video is acсompanied by the interview transcript. Enjoy watching!
Introducing Hermann Mike, OpenWay Sub-Saharan Africa
Hermann: My name is Hermann Mike, and I'm based out of Nairobi, Kenya, now looking after OpenWay's business in Sub-Saharan Africa. I have been in payments for roughly 15-odd years at different companies around the world, starting out in banking and moving on to one of the largest payment companies in the world. Before OpenWay, I was at Visa for 7 years in the East African office, the Kenyan office in particular, looking after the larger East African region. I was in charge of taking care of new technologies in the market, meaning any new technology that has never been tried in the market before. I would pick it up, do the project with the customers, enroll it up to the market, and once it picked up pace, then I would hand it over to the business-as-usual teams.
I have worked in the banking industry and have worked for notably two of the largest banks in the country, KCB Bank and Equity Bank. I spent a lot of time in Equity Bank working with the Way4 system and rolling it out across the region to five different countries by the time I left. So yes, I'm a seasoned payments professional, having been in the industry for a long time.
How to beat the biggest enemy of banks in Africa?
Hermann: It's a question that runs across a lot of African regions, not just Kenya specifically, and the largest threat they have is from their expected enemy, which is the telcos. And in Africa, interestingly, the telcos have become the so-called banks for a lot of customers. If we take Kenya, for instance, their combined numbers in terms of active 30-day activity, compared with card users across the industry from all the banks combined, is about 5 million 30-day active customers. If you go to M-PESA, for instance, which is very popular in Kenya, the number of 30-day active customers is 50 million. So if you compare 50 to 5 million, it's just a fraction of the whole segment.
If you look at the merchants' acquiring space as well, their combined number of merchants across banks is under 20,000. If you go to M-PESA again, it has about 200,000 active merchants. So yes, the largest question and the biggest threat that sits in every boardroom across the region is how do we then start competing, or take back the pie, or the business that has gone to the telcos, and what do banks need to do?
How can banks win customers back?
It all comes down to being innovative and being very proactive in everything you do — being very disruptive in your thinking. I think the one lesson that we have picked globally as a population from this whole COVID-19 pandemic is that we need to always think on our feet. We need to do things differently so that we can survive in the current times. So financial institutions need to think very disruptively and think about their measures or the things they need to do or put in place, their flexibility and their freedom, as it was discussed yesterday at OpenWay Club 2021. It clearly said that the customers are more informed and have a lot more power, so every financial institution needs to put the customer first in making a decision for them. And I think, credibly for them, they need a partner who is more flexible and more agile, more futuristic in their model of thinking and R&D, and that's where we come as OpenWay and play very well.
How can OpenWay help banks in Africa?
OpenWay is a keen strategic partner when it comes to that, because, first of all, we are highly flexible in terms of products. We customize our products in terms of what the customer wants, and coming to think of it, most of the needs and requirements that comes from customers, apparently we already have something bespoke for it. If you are looking to buy a car, there is no car that is made specifically for you, where you have the choice of basically picking up the bits that you want and build this dream car that you want. But in a nutshell, it's an off-the-shelf solution that is customized for your own fit. Luckily for us, at OpenWay we have that off-the-shelf, very customizable solution. If these customers want us to dive into more customized solutions, we can do that very efficiently and very quickly.
And most importantly, I think that we are one of the global players who have a very vast experience when it comes to mobile wallets. Mobile wallets have existed in Asia longer than they have existed in Africa. We have had that play in Asia, we have the experience, and we have the expertise. I think we play a very fundamental role when it comes to the strategies that African banks need to employ for the future of Africa.
What services should banks in Africa leverage?
Hermann: I think how Africa is different from the rest of the world, from the West and from the US, Africa has leap-frogged the usual growth curve. Globally we moved from money to cards, which is plastic cards, to maybe mobile payments. Africa leap-frogged, or jumped across the plastic movement, and went straight to mobile. And our mobile is a bit primitive, because it aggregates both a feature phone and smart phones, because smart phone penetration in Africa is not that high.
Banks can compete in this space through mobile wallets that let the customer have the leverage, have control over their accounts whether they have a smartphone or  a feature phone, and in a very simplistic and primitive way be able to access their funds, make payments, and transfer cash to one another.
OpenWay is the only payment solution provider in Africa who…
Hermann: We cut across a very large geographical landscape. We have one of the largest processors for Africa, Network International, who runs our solution for some of their African clients, and they run across from West Africa to North Africa, to East Africa, to Southern Africa. Then in East Africa we have one of the largest banks, Equity Bank, which uses the Way4 solution across seven East African countries.
Equity Bank has done a really splendid job of rolling out a lot of services for their customers. Some bespoke solutions we have managed to do in partnership with them and have rolled out successfully include agency banking, which allows the bank to be able to serve its customers and push customers away from the branches, thereby reducing the cost per of serving each and every customer. And then, most importantly, we are the only player in the African region that has successfully integrated money remittance services, the likes of Western Union, whereby it allows customers to withdraw funds from an ATM machine on a wall, in a street corner, or at a mall, without necessarily going to a branch or having that human interaction with anyone. If you receive money that has been sent from Western Union, you can have access to that money 24×7 from any of the ATM locations. This I have not seen any other player do.
Three things I like about OpenWay
Hermann: I honestly love OpenWay. The first thing is how the company plays with color – I love color. There's a lot of color everywhere, from the presentations to how people dress to how everything is done full of color. It brings out life, the life in people, the life in events and business and everything.
But most importantly, I think the one very unique thing I have seen from OpenWay is its ability to be such a global organization, which is massive, and operate like a very small fintech. So if you happen to mention something, it goes very quickly up to the highest executives. The turnaround time to doing things, the flexibility in doing things, it's just amazing.
And I forgot to mention the people. The people are fantastic!
Read Original Article and View Interview Videos Here