About Event
11th Africa Bank 4.0 Summit
- North Africa
Digital technologies are unlocking new pathways for rapid economic growth, innovation, employment, and access to all forms of services in North Africa.
Web3 / the Metaverse has made its way into the frame of our daily lives, and financial services is now at a crossroad to enhance financial services with new age digital technologies, leaping itself into the world of virtual reality.
The question arises, how are governments, the financial services sector, and the telecommunication authorities working to narrow these digital divides, and enhance access of financial services to customers especially in the remote areas of Africa, which includes the poorest of the poor?
BII World brings to you the 11th Africa Bank 4.0 Summit – North Africa, revolving around the central theme – "Transforming Financial Services in the Age of the Metaverse."
Featured in the land of the great pyramid of Giza, this high-profile summit brings together policy makers, and the higher authorities from North Africa's FinTech, digital banking, and digital payments sector to pave the way forward into progressing Africa's quest to enhance access to finance by raising the bar with innovative models in payments and finance.
The event hosts high-profile officials from the relevant government bodies, and the c-suite from banks, microfinance institutions, fintechs and regulators on the speaker roster. Within the audience the event hosts senior and executive management officials from the financial services sector to determine Africa's progressive future in payments, digital banking & beyond.

This Exclusive In-Person
Event will feature

Why must you attend the 11th Africa bank 4.0 Summit - North Africa
As part of the flagship series of the Africa Bank 4.0 Summit, our attendees come to attend knowing that they will acquire the most updated knowledge on digital banking, payments, financial inclusion, innovative technologies and the best digital banking solutions to counter biggest challenges.
We did a quick survey to see where they are investing
Customer Digital Onboarding
Open Banking Enabled Solutions
Implementing Artificial Intelligence & Data Analytics in Customer Insights
Blockchain Solutions for Money Transfers & Remittances
Modernizing Digital Infrastructure
User Experience across Digital Tools & Mobile Apps
Smart Payment Processing Methods
Biometric Onboarding & ID Systems
Enhancing a Trustless Experience in Payments & Transfers
Key Sessions at the 11th Africa Bank 4.0 Summit - North Africa
Perfect Examples of Translating Intention to Action
Showcasing success stories that offer a 360-degree perspective on enhancing financial inclusion excelling the art of advancing customer-centered retail digital financial services
Curtain Raiser Keynote| Modernizing Your Digital Banking Infrastructure
Exclusive Presentation| Biometric KYC – Keeping Fraudsters out of your System
Keynote Panel | Innovation in a Time of Uncertainty – How can banking leaders thrive in a digitally disrupted and unpredictable world?
Speaker Session | Demystifying Digital Lending: How Digital Transformation Can Help Financial
CEO Influencer Panel | Digital Access: Deepening Financial Inclusion in North Africa. Service Providers Reach New Customers, Drive Engagement, and Promote Financial Inclusion
Exclusive Presentation | Modernize Digital Systems in order to Outgrow Fintech Influence
Speaker Session | Strategies for the Future of Security in Digital Banking & Payments Industry
Digital Leaders Panel | Ensuring Inclusion as we move towards a Cashless Future in North Africa
Exclusive Presentation | How Digital Enablement can drive better relationships with Retail & SME Banking Customers?
Fireside Chat | How has Blockchain Technology driven Innovation in the Fintech Sector?
Speaker Session | Open Banking and Financial Inclusion: The Path to Digital Transformation
The Payments Town Hall | Metaverse – Redefining the Future of Digital Payments

Who will you meet at the 11th Africa Bank 4.0 Summit - North Africa?
The event brings the who's who from the region's financial services sector featuring banks, regulators, Fintechs and the government. Let's find out who will you meet at the 11th Africa Bank 4.0 Summit – North Africa.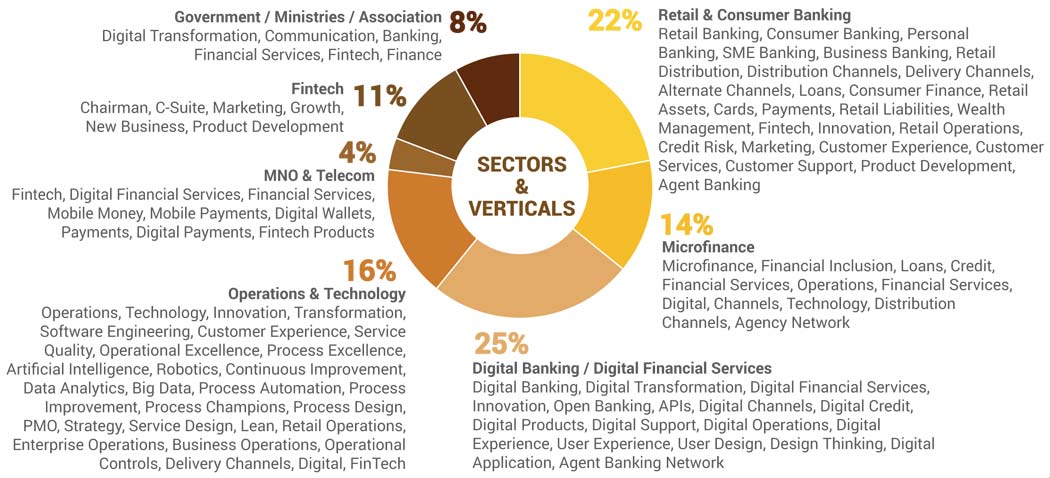 Facts & Highlights from the past editions
BII World has created a brand in the name of the Africa Bank 4.0 Summit which has dedicatedly offered its participants and partners a unique platform to collaborate, strategize, and contribute for the future development in the region's digital financial services and e-payments sector.
4000 +

Delegates

300 +

Speakers

300 +

Attending Banks & FinTechs

50 +

Sponsors

20 +

Supporting Partners

700 +

Hours of Networking

50 +

Presentations & Panels

30 +

Solution Showcase